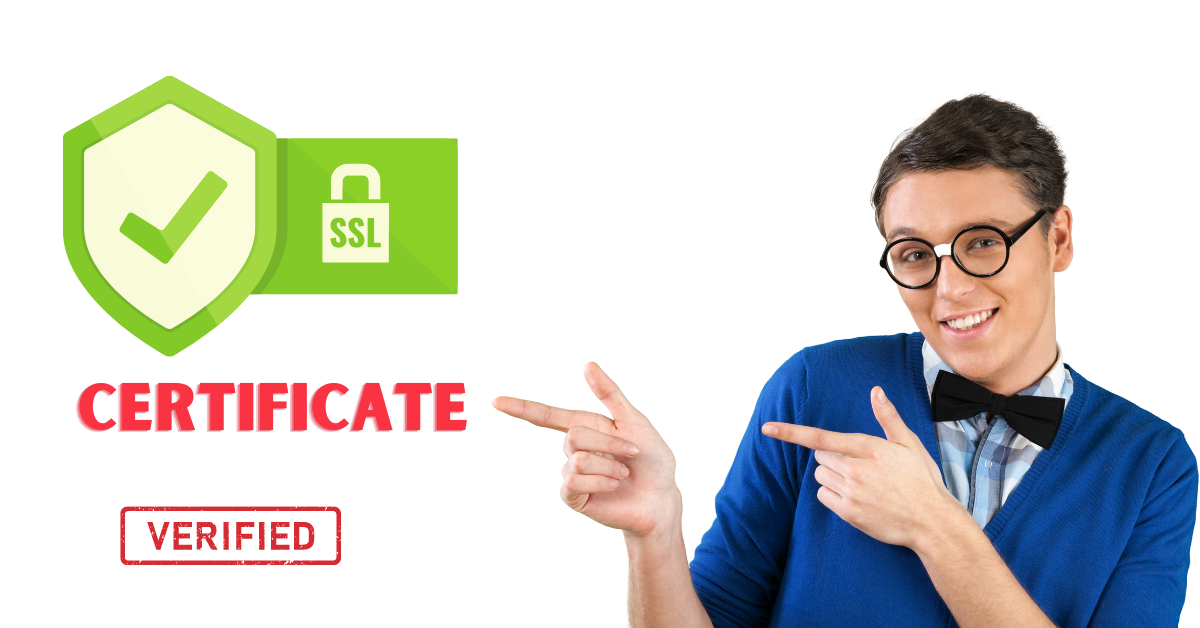 SSL Certificate
(Secure Socket Layer) SSL certificate is mostly used for the protection and security of websites against different hackers malicious.
SSL Certificate is the connection between the web browser user and the server to make sure it is saved. It will make a secure connection between the two parties. Additionally, an SSL certificate helps to save your domain from different connections and attacks by validating the server identity.
Here is the easiest way to figure out if the website is protected by an SSL certificate. Simply check the URL if the URL is HTTP or HTTPS and 'S' shows the indication that the website has an SSL certificate. And the website also has a lock icon on the left side of the URL which indicates that the website is secure.
Types of SSL Certificates
It is time to get more understanding and knowledge about the different types of SSL certificates that are available. Different types of SSL certificates fulfill the different requirements of the website.
Domain Validation
Domain Validation is simple and easiest to get within a few minutes. All website owners must need to verify that they are the owner of the website to obtain the certificate.
Domain Validation Certificate is reasonable for all of the certificates that are available. Additionally, these certificates are easy to get and they offer a low level of trust but it does not mean they are encrypted. Domain Validation Certificate is the best for new websites such as portfolio websites, or blogs.
Business Validation
A Business Validation SSL certificate, also known as an Organization Validation certificate, is designed to verify the existence and legitimacy of businesses. It is particularly beneficial for websites that handle monetary transactions, especially credit card payments. If your business deals with such transactions, investing in a Business Validation SSL certificate is recommended.
To obtain this certificate, you need to submit certain documents to the Certificate Authority (CA) for verification. Once all the required documents are submitted correctly, the process usually takes a couple of days to complete. Unlike Domain Validation certificates, Business Validation certificates include the website's name and address, making them more credible and reliable.
These certificates are particularly suitable for e-commerce businesses, small and medium-sized firms, as well as startups. By securing your website with a Business Validation SSL certificate, you can enhance customer trust and protect sensitive financial information, which is essential for online businesses dealing with monetary transactions.
Extended Validation
Different SSL Certificate offers a different level of trust Extended Validation Certificates offer a high level of trust and protection against attacks.
Extended Validation Certification conducts background research to check the organization. They make sure that the company exists and is registered as a business and that they are providing correct information about the business. Extended Validation Certification is mainly preferred for e-commerce websites, IT firms, and large-scale companies.
Wildcard
A wildcard SSL Certificate is a specialized type of SSL certificate that is designed to cover all subdomains under the main domain. For example, if the domain is www.nuwair.com so wildcard domain secures the subdomains like "pakistan.nuwair.com". It means you can protect all the subdomains that are associated with the main domain.
These types of certificates are useful for websites that have multiple subdomains. It works well for different types of websites such as e-commerce and business websites. However, the necessity of possessing an SSL certificate depends on the type of website you operate. For most websites, having an SSL certificate is essential to ensure security and gain the trust of users. Therefore, it is advisable to consider getting an SSL certificate for your website to enhance its security and credibility.
We are at www.nuwair.com offering 3 variants of SSL Certificates with a 30-day money-back guarantee. While choosing an SSL certificate it depends on your website and select the certificate that is suitable for your website needs.
We are assured this article help you to decide how to choose an SSL certificate best that is suited for your website. If you have any questions feel free to ask in the comment section below or call us.